Razer Kraken V3 Pro Wireless Gaming Headset
THE DEEPEST IMMERSION. UNLEASHED.
To reach the ultimate depths of immersion, one must dive beyond sight and sound. Unlock a third sense for gaming with the Razer Kraken V3 Pro—a wireless haptic PC gaming headset powered by Razer HyperSense. With the ability to feel what you hear, gaming has never felt this intense or real.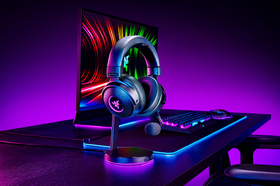 FEEDBACK THAT FEELS REAL.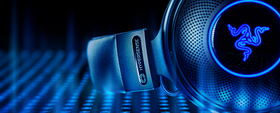 Cutting-edge haptic drivers in each earcup pick up on audio cues and convert them into realistic vibrations that vary in position, duration, and intensity, providing touch-sensory feedback for in-game sounds.
POWERFUL, LIFELIKE AUDIO.
Our patented 3-part driver design pushes out exceptional highs, mids, and lows that doesn't muddy, providing a more dynamic listening experience for deeper immersion. Upgraded with titanium-coated diaphragms for superior clarity, the drivers enable truly lifelike and accurate sound reproduction.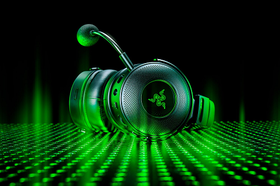 The haptic headset's industry-leading 2.4GHz wireless connection ensures lossless, low-latency audio that syncs perfectly with game visuals, so you'll never experience a break in immersion.
BUILT FOR COMFORT. BUILT TO LAST.
Flexible, durable, and resilient. The perfect balance of comfort, sound isolation, and haptics transfer. Soft cushioning on the head for minimal pressure.